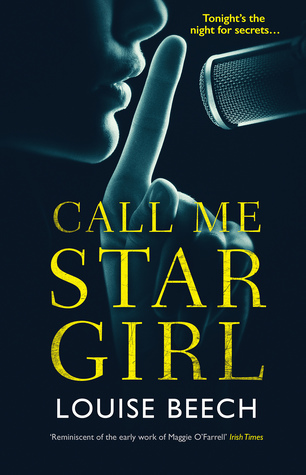 Title: Call Me Star Girl

Author: Louise Beech

Genre: Mystery/Thriller

Publisher: Orenda

Publication date: 18th April 2019

My rating: ★ ★ ★ ☆ ☆
Summary:
"Tonight is the night for secrets…
Pregnant Victoria Valbon was brutally murdered in an alley three weeks ago – and her killer hasn't been caught.
Tonight is Stella McKeever's final radio show. The theme is secrets. You tell her yours, and she'll share some of hers.
Stella might tell you about Tom, a boyfriend who likes to play games, about the mother who abandoned her, now back after twelve years. She might tell you about the perfume bottle with the star-shaped stopper, or about her father …
What Stella really wants to know is more about the mysterious man calling the station … who says he knows who killed Victoria, and has proof.
Tonight is the night for secrets, and Stella wants to know everything…
With echoes of the chilling Play Misty for Me, Call Me Star Girl is a taut, emotive and all-consuming psychological thriller that plays on our deepest fears, providing a stark reminder that stirring up dark secrets from the past can be deadly…"
My review:
I heard only praise for Louise Beech and was keen to venture into her writing. After much thought I decided to start with her most recent book which is also the first book she has published in the Mystery/Thriller genre. Before I knew it I was thrown into a whole new world involving a complex family relationship and a ghastly murder.
Although the premise of this book is fascinating and the writing brilliant, I really struggled to get into it at first. Looking back, I think that the most aggravating aspect for me were the two main characters: Stella and her mother Elizabeth. Both characters have flaws which they address and try to surpass but as much as I tried I couldn't warm to either of them. I found it difficult to understand Elizabeth's perspective of connecting with her daughter years after leaving her behind and I found Stella's view equally perplexing. After getting past this hurdle I could see the appeal in both characters but it took me a long time and by this point I started to care less about the characters and more about the murder.
Aside from the character building, the storytelling aspect and the multiple techniques used to build up the tension and reveal twists were truly brilliant. I was glued to the pages especially towards the end where the murder is solved and all the missing pieces come together. The plot is rich in detail as the story line builds up and secrets are revealed. The setting of the radio station as Stella presents her final show is atmospheric and chilling. Once I grasped the characters it was very easy for me to get lost in the book and I finished it in only a few sittings, eager for a resolution.
Call Me Star Girl has all the right elements that form an exceptional mystery/thriller book. Although I was not completely convinced by the characters, I was impressed with the effortlessness of Louse Beech's writing and the fast-paced, complex plot. I am looking forward to exploring more of her writing through her previous books.